Fields of application
Greenhouse
Highly specialised for greenhouse work.
Greenhouse crops represent an important production sector within the horticultural-floricultural sector.
Protected crops make it possible to produce valuable crops without exposing them to unforeseen climatic and meteorological events and to extend production periods, with the possibility of placing them on the market out of season.
This sector requires a very high degree of specialisation in terms of mechanisation, due to the limitations imposed by the presence of crop cover structures, which severely restrict the space for transit and manoeuvring of vehicles.
A specialised tractor must be able to meet these needs, offering the possibility of transiting and manoeuvring even inside greenhouses with very limited space, while at the same time ensuring maximum respect for crops and the environment.
Efficiency and agility.
A long-established brand in the specialist segment, PASQUALI offers a range of tractors for greenhouses with a low height, thanks to the low-profile cab or folding arch.
The highly specialised nature of these machines allows them to work totally efficiently within covered structures, with the ability to move agilely, reaching even the most difficult spaces.
Working efficiently in greenhouses for PASQUALI means, in fact, utilising all available space in height and width, reaching, in the case of tunnels, even into the side strips where the available height is even more limited.
The manoeuvrability of the PASQUALI greenhouse tractors is ensured by the isodiametric versions with 'AR' central articulation or equipped with the 'Dualsteer®' dual steering system, also available in SDT version, which ensure a high steering angle in all conditions.
Find out more about the Dualsteer® steering system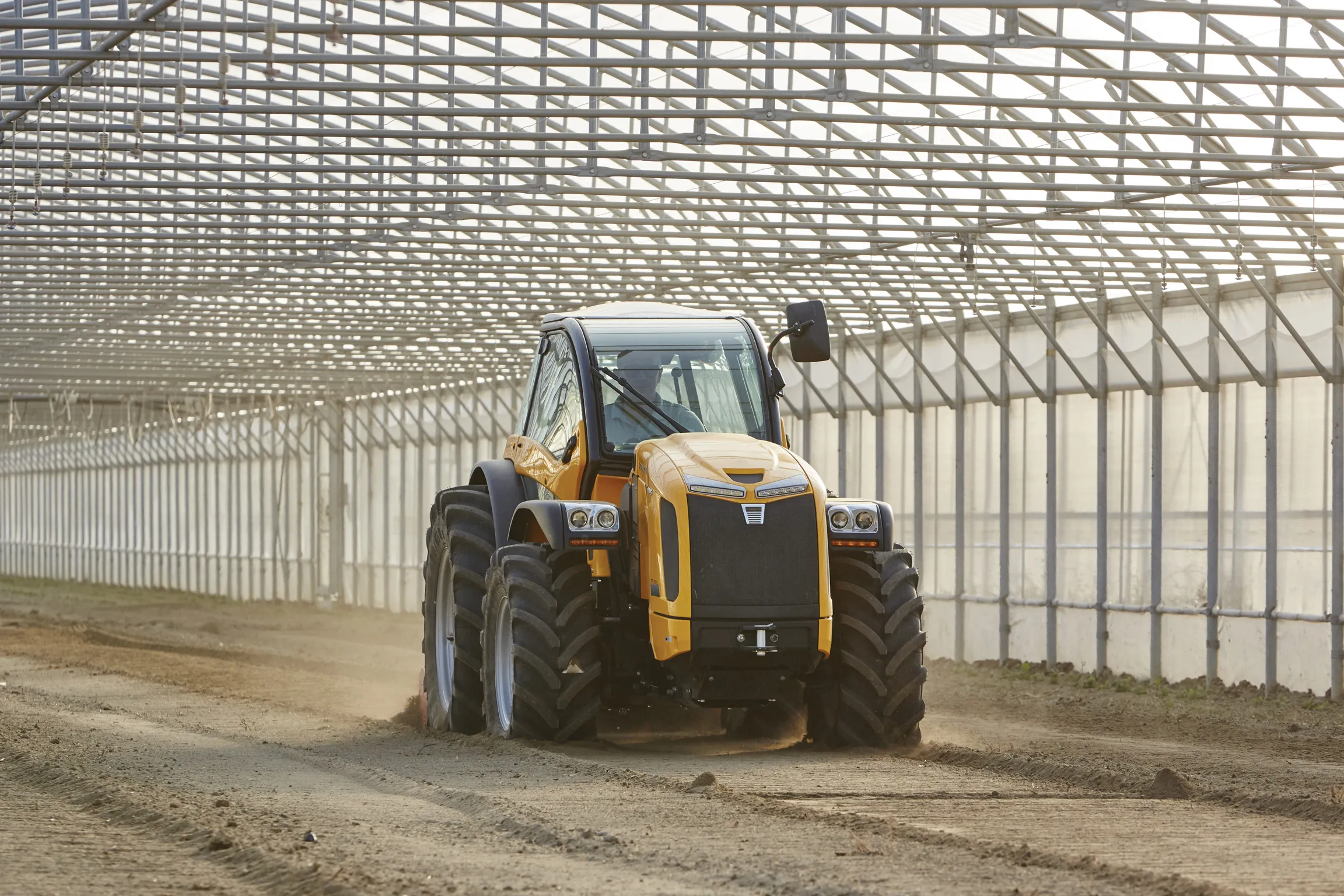 Maximum protection of the soil.
Highly versatile, PASQUALI tractors can be combined with any attachment with the possibility of operating even at low speeds.
All models in the range have high lifting capacities at the three-point linkage and are characterised by an optimum power-to-weight ratio.
This aspect is significantly important when used in greenhouses: the lightweight of the vehicles reduces soil compaction, safeguarding its structure and fertility, as well as decreasing fuel consumption.
The wide availability of tyres of different size and width makes it possible to achieve good ground clearance so that the wheels are kept in the furrows of wheel tracks, further preserving the land.
Wide wheel solutions offer an additional advantage in terms of tractor flotation, reducing compaction in all demanding greenhouse operations.
Specialized tractors for working in greenhouse