Technology
Dualsteer® steering system
Thanks to the Dualsteer I can exit and enter the rows with a single manoeuvre, saving time, fuel and increasing the productivity of my farm.
Unrivalled manoeuvrability.
Knowing how to be agile is a crucial characteristic for all specialised tractors working in narrow spaces.
The Dualsteer® versions of the PASQUALI tractors offer unrivalled manoeuvrability thanks to the patented double steering system that combines and synchronises the central joint of the chassis with front wheel steering.
This system makes it possible to achieve a very tight turning angle of 60° in medium-power tractors and those with differentiated wheels, and even 70° in high-end isodiametric tractors, unique on the market.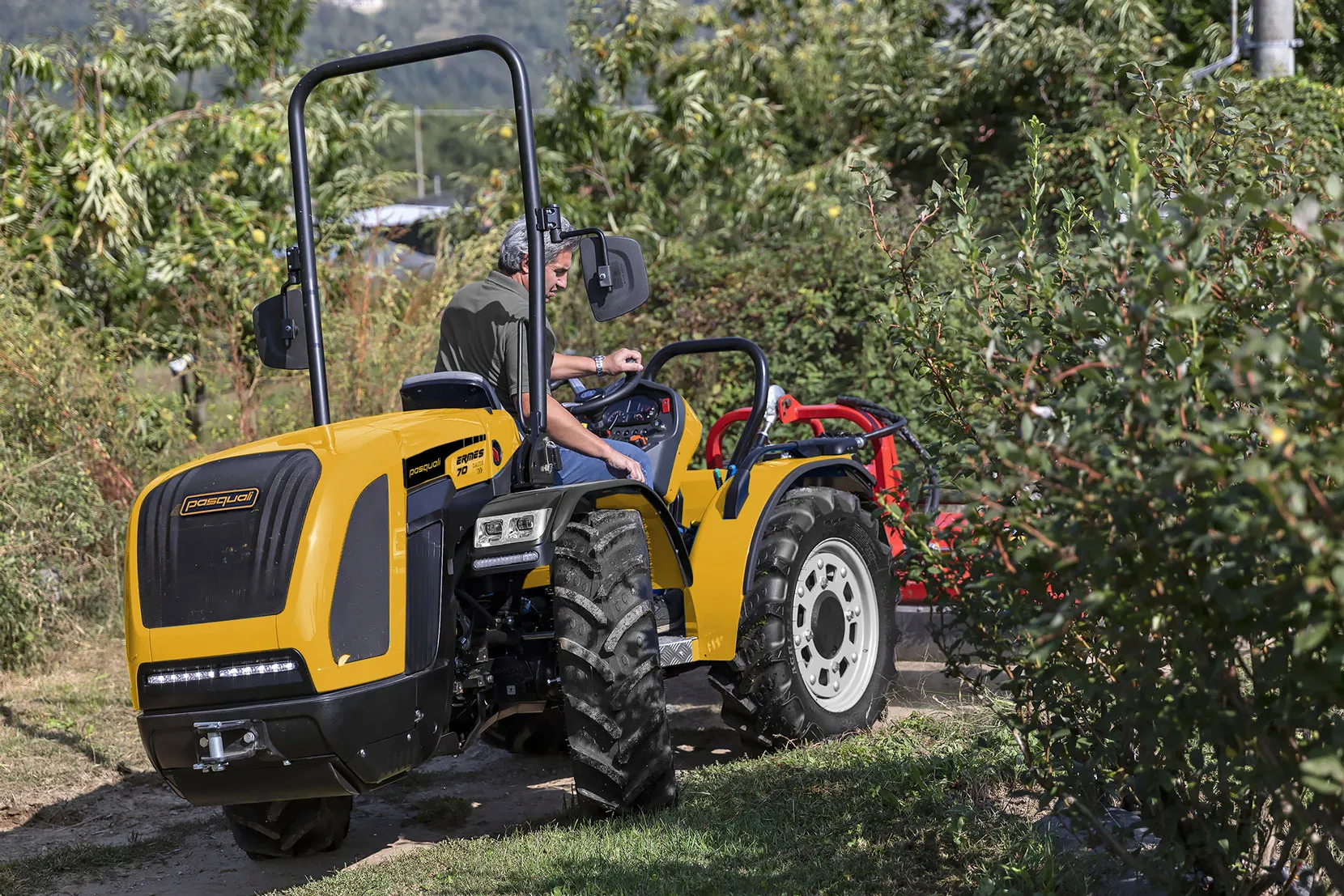 Winning in every field of use.
The unrivalled steering radius combined with the stability of manoeuvres also on slopes, make the Dualsteer® versions the winning solution in numerous fields of use:
vineyards and orchards with little space for manoeuvres at the turn space,
greenhouse crops,
garden-flower-nursery sector,
greens maintenance and typical municipality.
Double steering system.
The Dualsteer® technology consists of a steering system that simultaneously acts on both the central articulation and the front wheels.
From an operational point of view, the driver must simply activate the steering wheel since the insertion proportionality control for the two devices is ensured by:
a hydraulic circuit that intervenes on the steering cylinders of the central articulation and on those of the front axle;
a mechanical connection system for steering synchronism and progressiveness.
Steering precision and stability during travel.
This advanced four-cylinder hydraulic system guarantees both steering power with high precision at very low speeds, even in the presence of high axle loads, and directionality and stability when traveling on the road at high speeds.
Concrete advantages between vineyard and orchard rows:
The very small turning radius makes it possible to go directly from one row to the next with a single turn, without additional manoeuvres.
time saving.
greater operating comfort.
less damage to the ground.
Advantages in maximum steering conditions on side slopes:
During turning and maximum steering, the centre of gravity of the tractor always remains inside the contact point with the ground of the four wheels for absolute operational safety and stability, even when working on slopes.
stability of a steering wheel tractor.
optimal drive distribution between inner and outer wheel.
Advantages compared to tracked tractors:
On steeper slopes the Dualsteer®, in addition to ensuring the same turning radii, offers different advantages:
superior stability thanks to the OS-Frame swinging chassis that allows the adaptation of the 4 wheels to the shape of the ground.
minimised damage to the soil normally "ploughed" by the studs of the tracks during headland manoeuvres.
Advantages of using with reverse drive:
The great sensitivity on the steering optimises the use of the tractor even with reverse drive and with front attachment mounted on the lift such as fork-lifts, cutters, leaf strippers, inter-vines.
maximum precision when working even at very low speeds.
greater speed when turning between rows.
Specialized tractors with Dualsteer® technology